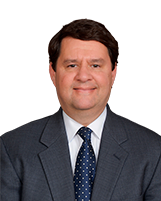 Houston Office
3100 Richmond Ave., Ste. 550 Houston, TX 77098
Rick W. Thamm
Rick was born and raised in Victoria, Texas and remained in Texas for his undergraduate and law school studies. Rick graduated from the University of Texas at Austin with a B.S. in Geological Sciences in 1984 and earned a J.D. at the University of Houston Law Center in 1987. Rick has focused his 30 year law career primarily on civil defense litigation representing a wide variety of corporate entities.
During his tenure as a lawyer, Rick has been responsible for corporate defense, insurance defense and commercial litigation dockets. Rick has defended thousands of matters involving general liability, personal injury, products liability, commercial disputes, toxic tort, property damage, fire/explosion claims, oil and gas matters and premises liability issues. He has also specialized in the development and implementation of strategic and tactical defense and management of the Texas mass tort docket for a multitude of clients specifically related to asbestos, silica and other environmental exposure matters. Rick has frequently acted as lead defense counsel representative and/or liaison counsel in various mass tort actions including cases pending in various Texas MDL (Multi-District Litigation) courts.
Rick was previously responsible for managing litigation dockets consisting of over sixty thousand (60,000) mass tort claimants including the direct supervision and preparation of lawsuit defense. Serving as Assistant Regional Manager for Owens-Corning's Southwest Region, Rick supervised cases pending in eight different states over a five year period. He has also been responsible for the investigation and discovery of Texas cases for several mass tort clients on a statewide basis.
Having been certified in all state courts of Texas, Rick has acted as trial counsel in over twenty-five (25) matters including actions filed in Harris (Houston), Travis (Austin), Dallas, Tarrant (Fort Worth), Jefferson (Beaumont), Brazoria and Nueces (Corpus Christi) counties. Some of Rick's representative clients over the course of his career include: Bechtel Corporation, Genuine Parts Corporation, NAPA Auto Parts, Howden Buffalo, Inc., General Cable Corporation, Bacou-Dalloz Safety, Inc., FKI Industries, Inc., The Crosby Group, Inc., Owens Corning, BIC Corporation and Eagle-Picher Industries.
Rick has briefed several appellate matters including Pustejovsky, et al., v. Rapid- American Corporation, et al., 35 S.W.3d 643 (Tex. 2000) ("Single Action Rule") and Slaughter, et al. v. Southern Talc Co., et al., 949 F.2d 167 (5th Cir. 1991) (exposure and causation evidentiary issues).
Rick has been married to his high school sweetheart, Mary, for over 30 years. Mary has practiced law for more than 25 years formerly specializing in first party insurance defense matters. She has focused her practice the last several years as a mediator and currently conducts mediations over the entire state of Texas. Their two daughters, aged 24 and 21, are apparently career students. The eldest is now in her second year at the SMU Dedman School of Law, and the younger is a Senior engineering student at Texas A&M University having also started work on a Master's degree in Finance.
In his life away from the Law, Rick has coached girls' softball, volunteered for a local organization serving the homeless and underprivileged, acted as a board member for the Houston Children's Chorus, and served as a lector and RCIA instructor at St. Michael's Church. Rick also enjoys art, travel, music, and throwing darts competitively having been a Lifetime Member of the Houston and Harris County Darts Associations for more than twenty (20) years.
Personal Injury Trial Law
Premises Liability
Toxic Torts
Environmental Law
Commercial Litigation
Construction Defect
All Texas Courts
United States District Courts for the Southern, Western and Eastern Districts of Texas
United States Court of Appeals, Fifth Circuit
State Bar of Texas
Houston Bar Association
Defense Research Institute
Texas Association of Defense Counsel
University of Texas at Austin (B.S.- Geological Sciences, 1984)
University of Houston (J.D. 1987)
AV Rated Martindale Hubbell
Phi Delta Phi Legal Honor Fraternity