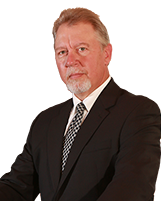 Beaumont Office
550 Fannin, Suite 700 Beaumont, TX 77701
Michael K. Rose
Michael K. Rose graduated summa cum laude from Lamar University in Beaumont, Texas and cum laude from the University of Houston Law Center, where he served as a Note & Comment editor for the Houston Law Review.  Mike's prime talent for the written word was recognized even before he completed his law degree, when he was employed as a law clerk, ghost-writing two federal Fifth Circuit appellate briefs.  Twenty-five years (and counting) later, he still is working with the same attorneys who entrusted him then.  Mike displays a particular gift for legal research, constructing legal arguments, and presenting those arguments in the trial court or on appeal in a clear, succinct, rational fashion.
Through the years, Mike and the other SB&L attorneys have developed a symbiotic working relationship that freed the trial counsel to focus on trial strategies and day-to-day case development while relying upon Mike's expertise in drafting complex trial motions and trial/appellate briefing.  This relationship—and the resultant ability of the trial lawyers and Mike to specialize on their respective strengths—is unusual in a firm of SB&L's size.  The firm's goal is to capitalize on and perfect this synergistic legal strategy, so that Mike's talents can be utilized by the other lawyers in the firm to make each of them a better, more complete lawyer and provide firm clients with the strongest, most effective legal representation possible.
In addition to preparation of many hundreds of trial court dispositive motions and bench briefs in the state and federal district courts, Mike's experience includes drafting appellant's, appellee's, and amicus curiae briefs in over 25 different state and federal appellate cases.  Some of the representative highlights of Mike's appellate career include:
Avdeef v. Rockline Indus., 554 F. App'x 269 (5th Cir. 2014) (affirming res judicata dismissal)
In re Global Sante Fe Corp., 275 S.W.3d 477 (Tex. 2008) (amicus brief in seminal case determining whether the Jones Act preempted Texas' statute governing medical proof requirements in silica (and asbestos) cases)
Owens & Minor, Inc. v. Ansell Healthcare Prods., 251 S.W.3d 481 (Tex. 2008) (one of the earlier cases determining the scope of Texas' Products Liability Manufacturer's Indemnity statute)
Gaudette v. Conn Appliances, Inc., 2007 Tex. App. LEXIS 7315, 2007 WL 2493437 (Tex. App.—Beaumont, Sept. 6, 2007) (successfully defending trial court's exclusion of "junk science" expert and defense summary judgment in "toxic mold" case)
Marcus Cable Assocs., L.P. v. Krohn, 90 S.W.3d 697 (Tex. 2002) (ghost wrote the Appellee's brief as well as several amicus curiae briefs in this landmark case construing the breadth of easement rights)
More recently, as his practice focused less on actual physical participation in discovery and hearings, and realizing the opportunities presented by internet technology, Mike decided to purchase an old farm in the Arkansas Ozarks.  He and his wife and daughters now live full-time on and operate this farm, raising various heritage breeds of cattle and other livestock.  Mike is licensed to practice in Arkansas as well as Texas, but he still telecommutes every day to SB&L's Beaumont office where he continues his motion and appellate practice without interruption.
Appellate Law
Complex Motion Practice
Toxic Tort
Contract Law
1992 – Texas
1992 – United States District Court, Eastern District of Texas
1993 – United States Court of Appeals, Fifth Circuit
2015 – Arkansas
State Bar of Texas
Jefferson County Bar Association
State Bar of Arkansas
Lamar University (B.A. 1987, summa cum laude)
University of Houston (J.D. 1992, cum laude)
Note & Comment Editor, Houston Law Review
Order of the Coif
Phi Delta Phi Legal Honor Fraternity
Order of the Barons