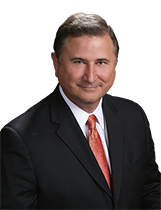 Houston Office
3100 Richmond Ave., Ste. 550 Houston, TX 77098
Beaumont Office
550 Fannin, Suite 700 Beaumont, TX 77701
R. Lyn Stevens
Lyn Stevens began the practice of law in 1980 as a briefing attorney for Chief Justice Michael McCormick of the Texas Court of Criminal Appeals. In 1981, he entered private practice concentrating on complex trial work predominantly in the Federal Courts. By 1983, his success allowed him to become part of a national coordinating counsel team.  In this role, he tried numerous mass consolidated actions and class actions in multiple states throughout the nation.  In 1995, he formed Stevens & Baldo, L.L.P. and continued his defense of clients in a variety of complex personal injury, product liability, environmental (EPA and TCEQ), RICO, DTPA, and professional liability claims, as well as commercial disputes.
For close to 40 years, Lyn has engaged in an active trial practice.   Early in his career, he focused on the burgeoning asbestos litigation and served as National Coordinating Counsel for Fibreboard Corporation.  Subsequently, he acted as Regional Counsel for Pittsburgh Corning Corporation.  During this period, he tried to verdict hundreds of personal injury cases involving allegations of products liability, negligence and conspiracy in numerous Federal and State courts.   Some of his more  significant trials include In Re Fibreboard, 893 F2d 706 (5th Cir. 1990) and Wilson v. Johns Manville Sales Corp., 873 F2d 869 (5th Cir 1989). Other asbestos and silica exposure related clients include PCS Phosphate, Inc. (fka Texas Gulf Sulphur), Oriental Gasket & Packing Company, and Independent Gravel Company.  In addition to asbestos claims, Lyn expertise extends to  include the defense of other toxic chemical exposure claims involving diacetyl (popcorn lung), cadmium, lead, benzene, silica, formaldehyde, PCBs, and sulfur dioxide.  He served as trial counsel in welding fume litigation in some of the earliest Texas cases which alleged a variety of complaints including neurological illnesses such as ALS, arc welder's pneumoconiosis, and Parkinsonism.
Presently, Lyn serves as National Trial Counsel for SPEC, Inc., a manufacturer of industrial X-ray cameras, obtaining defense verdicts all cases against SPEC involving severe radiation over-exposure injuries.
Lyn also handles complex real estate matters involving easements, appraisals, and oil & gas interests.  He was an invited  speaker before the American Appraisal Institute on unique issues involving public utility easements.  More recently, his defense practice expanded to include professional E&O claims against engineers, architects, medical health care providers, and veterinarians.   He has been involved in numerous construction defect claims, including those arising from the Reed Arena Collapse at Texas A&M University.
Lyn also serves  as lead counsel on behalf of firm clients in environmental matters, such as CERCLA and TCEQ actions involving water and soil contamination, including the recent enforcement action by the EPA regarding the USOR Superfund Site in Pasadena, Texas.  He also assisted in the Unified Command emergency response regarding a 465,000-gallon crude oil spill from the M/V Eagle Otome.  See https://www.ntsb.gov/investigations/AccidentReports/Reports/MAR1104.pdf .
In his spare time, he acts as second chair to his beloved wife Vicki in the rearing of four beautiful daughters. Their first daughter, Phoebe, is happily married to Drake Dominy and works as a Registered Nurse in one of Houston's premier Cardiac Critical Care Units; their second daughter, Chloe, a graduate from Baylor University School of Law is married to Jeff Sease; and, their third daughter, Priscilla, married to Kody Kamphius, is a CPA in Raleigh, N.C. Their fourth daughter, Naomi, is enrolled at Baylor University. Lyn remains active in his community serving as President and/or on the boards of several non-profit organizations. In 1998, then-Governor George Bush appointed him as Regent to Stephen F. Austin State University. His hobbies included soccer until his knees and lungs gave out. He now pursues Chess, an occasion game of golf with his sons-in-law, and remains a voracious reader of modern fiction.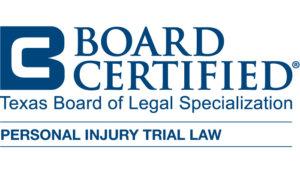 Personal Injury Trial Law
Premises Liability
Construction Defect Litigation
Environmental Law
Professional E&O Litigation
1980 – Texas
1982 – United States District Courts for the Southern, Northern, Western and Eastern Districts of Texas
1985 – U.S. Court of Appeals, Fifth Circuit
1988 – U.S. Supreme Court
1994 – U.S. District Court, Western District of Oklahoma
2015 – Oklahoma
State Bar of Texas
Sustaining Life Fellow of Texas Bar Foundation
Jefferson County Bar Association
Defense Research Institute
Texas Association of Defense Counsel
Stephen F. Austin State University (B.S. 1977)
Baylor University, School of Law (J.D., 1980)
Baylor Law Review – Associate Editor
Board Certified Personal Injury Trial Law, Texas Board of Legal Specialization
AV Rated Martindale Hubbell
Phi Delta Phi Legal Honor Fraternity