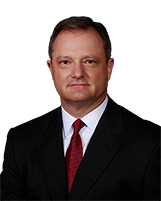 Beaumont Office
550 Fannin, Suite 700 Beaumont, TX 77701
Don Lighty
Don Lighty has spent his entire legal career defending people and corporate entities in personal injury, civil, contract, employment and workers' compensation matters.  He has tried over 125 jury cases as the primary trial counsel in state and federal courts.  These matters have not been limited to Southeast Texas, as Don has tried jury cases throughout the state of Texas including cases in the Panhandle and the Valley as well as every major city.
In 1985 Don was fortunate enough to begin his legal career handling personal injury claims including car wrecks and workers' compensation matters throughout Southeast Texas.  This allowed him to obtain much needed experience before juries, including juries in counties known for awarding excessive plaintiffs' verdicts.  Over the years clients have asked Don to represent them in other parts of the state, and he is now statewide counsel for many entities including municipalities, political subdivisions and major corporations.
In 1999 Don joined Stevens Baldo & Lighty PLLC to continue his commitment to defending those who have been sued. Don has since expanded his practice to include the defense of real estate professional liability claims, as well as representation of clients before administrative law entities such as OSHA, TWC (the Texas Workforce Commission) and the TDI-DWC (Texas Department of Workers' Compensation).
Don is married and has raised three fine sons, one of which has chosen to follow him in the practice of law.  He has served on many philanthropic boards including United Way of Beaumont & North Jefferson County and Beaumont Crime Stoppers.  Don has also served on the Board of Directors for the Jefferson County Bar Association and Jefferson County Young Lawyers Association.  He is a current member of the Texas Association of Defense Counsel, a Fellow of the College of the State Bar of Texas and a Life Fellow of the Texas Bar Foundation.   Don was the Chairman of the District 3A Subcommittee of the Unauthorized Practice of Law from 1993 until 2014.
Don is also proud to be a member of the Equestrian Order of the Knights of the Holy Sepulcher of Jerusalem, a philanthropic organization which promotes the presence and development of Christianity in the Holy Land.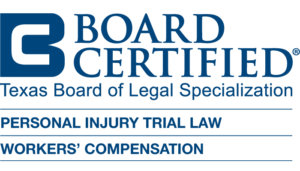 Personal Injury Trial
Civil Trial Matters
Workers' Compensation Matters
Employment Law
Products Liability
Legal Malpractice Defense
Contracts
Administrative Law Matters
OHSA Defense
Construction Litigation
1985 – Texas
1986 – U.S. District Court, Eastern and Southern Districts of Texas
1987 – U.S. Court of Appeals, Fifth Circuit
1991 – U.S. Supreme Court
1995 – U.S. District Court, Western District of Texas
State Bar of Texas
Life Fellow, Texas Bar Foundation
Fellow, College of the State Bar of Texas
Jefferson County Bar Association
United States Court of Appeals, Fifth Circuit Bar Association
Texas Association of Defense Counsel
 Southern Methodist University (B.B.A. 1982)
St.Mary's School of Law (J.D. 1985)
Board Certified Personal Injury Trial Law, Texas Board of Legal Specialization (since 1992)
Board Certified Workers' Compensation Law, Texas Board of Legal Specialization (since 2007)
Board Certified Civil Trial Advocacy, National Board of Trial Advocacy (since 1996)
Board Certified Civil Pretrial Advocacy, National Board of Trial Advocacy (since 2012)
AV rated by Martindale Hubble
Named a Texas Super Lawyer by Texas Monthly Magazine every year since 2009
Phi Alpha Delta Law Fraternity